"Comfort and Style Combined: Jewelry for Every Day and Every Event" All Entries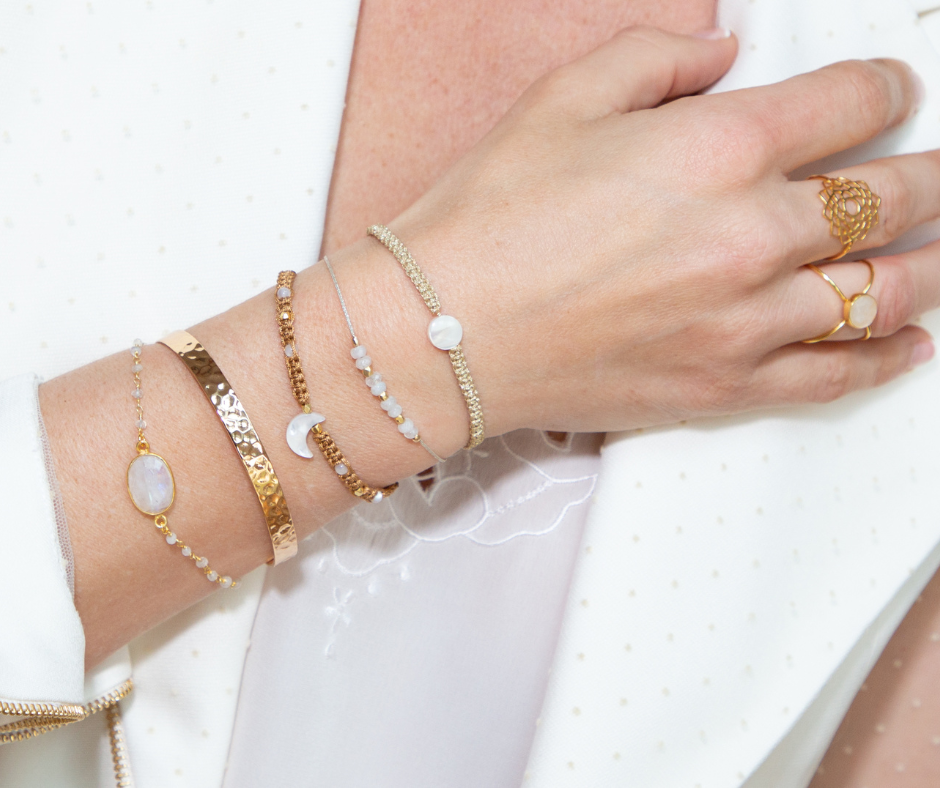 Jewelry is one of the greatest accessories to complement any outfit. But let's face it: large, heavy pieces of jewelry can get uncomfortable and even distracting at times. That's why it's important to embrace the concept of comfortable jewelry: lightweight accessories that let you enjoy the beauty of a stylish piece without the discomfort of wearing it all day long. Investing in comfortable everyday jewelry is a great way to make sure that you can accessorize with something that's easy to wear and that you can enjoy for many years to come.
Comfortable jewelry is key to looking and feeling your best. Comfort is especially important for everyday wear. Wearing jewelry that is too uncomfortable can cause irritation, distraction and even discomfort. That's why it's essential to choose comfortable pieces that won't leave scratches or marks on your skin. Look for lightweight pieces that don't pinch, pull or otherwise irritate your skin. Quality materials like gold, silver, and platinum are a good choice since they tend to be softer and less abrasive than lower quality metals.
If you're going to wear necklaces and bracelets daily, it's best to opt for necklaces with adjustable lengths and bracelets without clasps or closure mechanisms.
Finding comfortable jewelry doesn't mean you have to sacrifice style. There are plenty of stylish and comfortable jewelry pieces that won't cause irritation or distraction, lets take a look at some of them.
Stretchy Bracelets
These are a big trend right now, and a great way to add a bit of sparkle to your look without having to worry about clasps or latches. Stretchy bracelets are flexible, fit any size wrist, and are easy to take on and off. Whether you choose a delicate bracelet in silver, gold, or rose gold, or an intricate stretch bracelet featuring semiprecious stones, it can be an eye-catching addition to any look.
Not only are these bracelets beautiful, they are also very comfortable. The elastic cord makes the bracelet flexible and stretchy, allowing it to fit snugly around your wrist. This ensures that the bracelet stays in place throughout the day, and doesn't slip off or cause any discomfort.
The beauty of stretchy bracelets is that they can be worn for both casual and formal occasions. For a more dressed up look, pair a stretchy bracelet with a statement necklace or cocktail ring. For a more relaxed look, wear your bracelet with jeans and a t-shirt.
Companies like FOPE and ZYDO create stunning pieces with diamonds, gold, and other precious materials that look great and feel even better. Not to mention, they come in a range of colors and styles so you can easily coordinate them with your wardrobe.
Stud Earrings
Stud earrings are a staple of any woman's jewelry collection. These classic earrings offer a timeless style that goes with any outfit. They're versatile, elegant and perfect for any occasion, from everyday wear to a fancy night out.
Stud earrings are small and simple, making them a great choice for accessorizing any look. They come in a variety of styles, from diamond to crystal to simple metal settings. Whether you go for a classic design or something a bit more unique, stud earrings can add a touch of personality to your look.
They also offer a lot of versatility, as they can be dressed up or down. For a more formal look, you can choose a diamond or crystal stud earring. Or, if you're going for something a bit more casual, a simple metal setting is perfect.
Stackable Rings
Stackable rings are a trendy jewelry trend that has been growing in popularity in the past few years. The beauty of this style lies in its versatility - you can choose to wear several at once, or just one for a more subtle statement. They come in a variety of metals, designs, and stones - so there is something for every taste.
Not only are stackable rings beautiful, but they also have a practical purpose. The multiple rings allow for different combinations and looks, enabling you to change up your style depending on the occasion. Whether you are dressing up for a night out, or keeping things casual for the day, stackable rings can help create the perfect look.
For those looking to make a bold statement, stackable rings offer the ideal opportunity to show off your unique style. Mix and match different bands, stones, and metals to create a look that is all your own. Or keep it simple and choose a stack of rings that all match - either way you are sure to achieve a stylish and unique look.
Layered Necklaces
Layered necklaces are a fun and versatile way to elevate your look. Whether you're dressing up for a special occasion or just want to add a little extra pizzazz to your everyday look, layered necklaces are a great fashion choice. They can be dressed up or dressed down depending on the occasion and can provide a unique and stylish touch to any outfit.
Layered necklaces typically consist of two or more necklaces stacked together. Usually, the first layering will be more delicate, with a thin gold or silver chain, small pendant, or just a single strand of pearls. On top of that, you can add a thicker necklace, such as a bold choker, a long beaded strand, or a necklace featuring a more eye-catching pendant. This look can be further customized with charms, colorful stones, and other details.
Layered necklaces offer a great way to showcase your individual style and show off your favorite pieces. Whether you're wearing a casual outfit or a formal one, adding a few necklaces can really bring an outfit to the next level. Experiment with different lengths, metals, and design elements to create an eye-catching look that will turn heads.
Huggie Earrings
Huggie earrings are the perfect accessory for any fashionista! They're versatile, stylish, and perfect for wearing either dressed up or dressed down. From classic hoop styles to modern geometric shapes, there's something for everyone.
Huggie earrings are designed to fit very closely to the earlobe, giving a much more delicate look than traditional hoop earrings. They are usually between 1/2" and 3/4" in diameter and have a hinged back piece that allows them to easily slide on and off. Not only are they a great option for those who don't have pierced ears, but they can also be the perfect choice for those with multiple piercings.
Huggie earrings are incredibly versatile, making them a great addition to any wardrobe. You can express any look from classic to edgy and from subtle to statement. They're great for day-to-day wear, but you can also dress them up for more formal occasions.
Charm Bracelets
Charm bracelets have been around for centuries, but they have recently become a fashion staple for women of all ages. Charm bracelets are a fun, yet stylish way to accessorize an outfit. They can be a great way to add a shot of color and personality to an outfit, or to make a statement.
Charm bracelets allow you to customize your look in a way that no other accessory can. You can pick out charms that best represent you and your interests, creating a unique piece of jewelry that is specific to you.
From classic charm bracelets comprised of metal links and gemstones, to contemporary versions with colorful beads and charms, there's something for everyone. They come in a variety of materials such as metal, wood, plastic and natural stone, so you can find the perfect bracelet to suit your individual style.
Shop At LaNae Fine Jewelry
Are you looking for comfortable, stylish jewelry to wear every day? Look no further than LaNae Fine Jewelry in Vail, CO. At LaNae Fine Jewelry, we understand that jewelry should be an extension of your personality and style, and not a burden on your comfort. Our collection of jewelry is designed to be lightweight and comfortable, so you can enjoy wearing it all day, every day.
Our jewelry is crafted with attention to detail and we use only the finest materials to ensure long-lasting wearability. Our pieces are available in a variety of precious metals, such as gold, silver and rose gold, and feature beautiful, eye-catching designs. We also have an extensive selection of gemstones and pearls that are perfect for adding a touch of sparkle or color to your everyday look.
At LaNae Fine Jewelry, our mission is to provide you with stylish and comfortable jewelry that is perfect for all occasions. We pride ourselves on offering only the highest quality products at the most competitive prices. With our wide selection of designs, you are sure to find something that suits your taste and style.
So don't wait, head to LaNae Fine Jewelry in Vail, CO today and start expressing your personal style with our comfortable, everyday jewelry. You won't regret it!