Spotlight on Gold Jewelry Classics By Ray Griffiths All Entries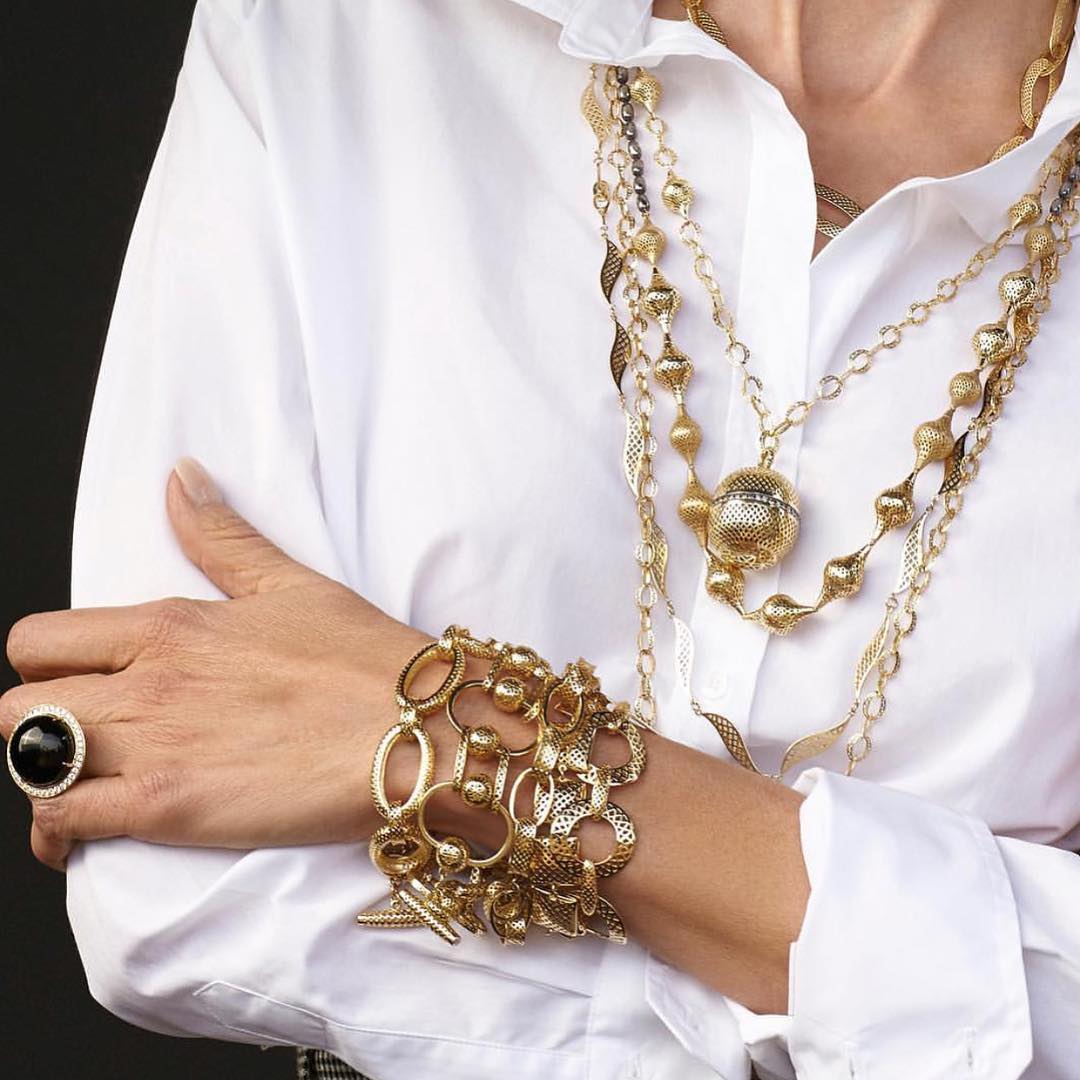 Welcome to our weekly lifestyle spotlight - this week we'd love to introduce you to jewelry designer Ray Griffiths.
No one intends to buy jewelry which just sits in a box - one of the biggest challenges we see our customers struggle with when shopping for jewelry is to get past the impulse purchase and really focus on getting something they will wear every day, or at least incorporate into their "jewelry wardrobe" with ease. We all have random jewelry that sits around. Bad purchases in jewelry can haunt us, buying an unflattering shirt and tossing it can be easier to stomach than those too formal, too expensive chandelier earrings that you never turn to because they are just too heavy after a couple of hours for example.
One of the biggest "trends" per say in jewelry lately is layering - necklaces, bracelets, stack rings. Everyone wants to incorporate their previous investments in a put together way with something updated you fall in love with. Another trend or at this point - just a new way of wearing jewelry, is to bring gold into every day wear with incorporating blackened silver or black rhodium. Having a chain which has both can easily update a more dated chain you own, possibly inherited. Pure gold is stunning but can be overwhelming in both price but also look when you're trying to be casual in jeans.
One of the reasons we love Ray Griffiths at LaNae is that he incorporates negative space in his gold work. This not only creates a stunning signature look but also has the added benefit of making stacking his pieces comfortable without the excessive weight, yet his craftsmanship doesn't feel cheap as electro-formed jewelry feels. Everyone knows about the closet staple of a little black dress and a great pair of heels but nothing ties a classic look together better than a classic gold necklace and earrings that can be lived in without being out of place.
Ray Griffiths gold gypsy hoop earrings seen
here
are one of my favorites in the shop and I have one of the most sensitive ear lobes to weight in an earring. Ray's staple chain we carry in store is his
curved wave link necklace
, worn long or doubled up at X inches is also as wearable as your favorite denim.
Check out his collection in store or
here
and if you happen to make it in bring some existing jewelry you'd want to update the look of- or come "jewelry naked" and let us style you from scratch!