Engagement Ring Trends All Entries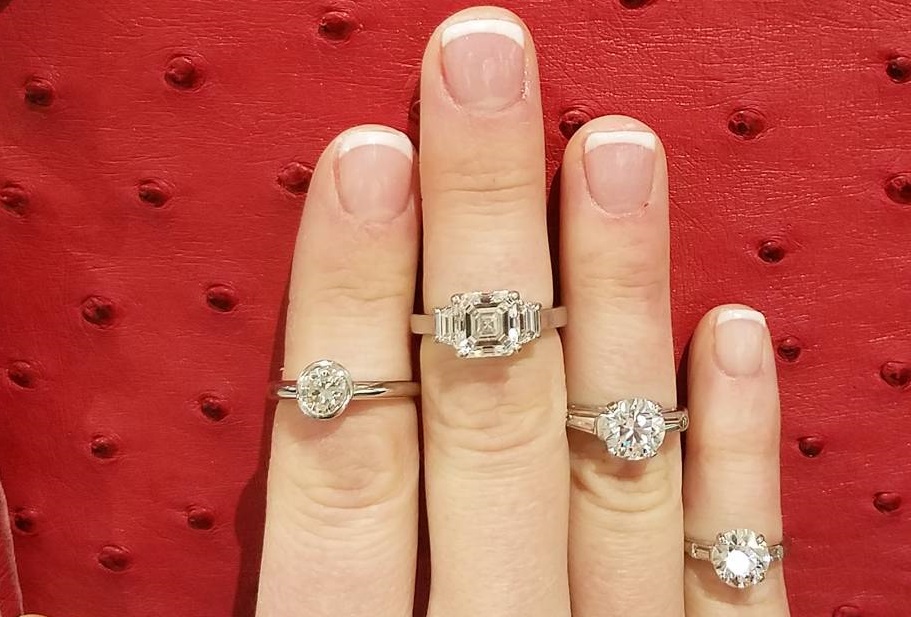 YES, IT'S THAT TIME OF YEAR AGAIN!!!!
Everyone knows that Valentine's Day is the most Romantic day of the year when anything can happen, especially if you have your eye on an Engagement Ring. With Valentine's Day around the corner. I thought I'd take some time here to share some of the Trends of 2015 with you. Here they are in no particular order:
Diamond Cluster Rings
– This is definitely not your Traditional Engagement Ring! They add extra sparkle to any perfect manicure.
This
Diamond Cluster Ring is a perfect example,
this
one is by far my personal favorite!
Gemstone Engagement Ring
– These are an absolutely spectacular alternative to the Traditional Diamond Engagement Ring. You can even match these up with your birthstone. There are just too many to mention, here are a few examples:
Onyx Gemstone
and Diamond Engagement Ring set in 14K White Gold,
Rose de France Gemstone
with Diamond pave accents set in 18K Rose Gold,
South Sea Pearl
with White and Yellow Diamonds set in 18K Yellow Gold,
Orange Citrine
and Diamond ring set in 18K Yellow Gold,
Morganite Gemstone
and Diamond Ring set in 18K Rose Gold,
Peridot Gemstone
and Diamond ring set in 18K Yellow Gold.
Fancy Diamond Shapes
– Shapes like this
Ascher shaped Diamond
Engagement Ring featuring
Floral Accents
which is also on the Hottest Trend list.
Vintage Inspired Looks
– Everyone knows that "Vintage is the new Black" and we can even see this in Engagement Ring Trends too. This
Taylor Bridal Ring
and the
Rebecca Bridal Ring
with
Floral Setting
will go perfectly with the Vintage Inspired look and is to die for!
Rose Gold & Yellow Gold
– this trend sees us moving away from the White Gold Trend which mainly complemented fair or rosy skin tones. Rose Gold Engagement Rings like
this
one complements all skin tones, whereas a Yellow Gold Engagement Ring like
this
one compliments olive and darker skin tones.
Something Unique
– This
Green Tourmaline
Ring will definitely be a one-of a-kind Engagement Ring. You will most certainly stand out in any crowd.
Eternity Bands as Engagement Ring
–
This
Eternity Band is absolutely gorgeous and also ties in with the Vintage Inspired Look as does
this
show stopper. These are just two examples but the options are limitless!!
If you are more of a Traditional Lady, we haven't forgotten about you!!
Here
are some options for you too, these Engagement Rings will never let you down and are just spectacular!!
For the Engagement Ring Trends of 2015 you can be a little bit more adventurous when shopping for that perfect Ring.

Happy Shopping!!